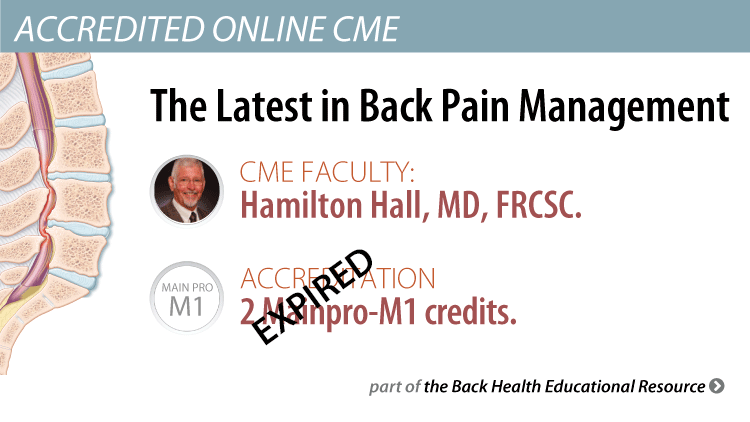 | | |
| --- | --- |
| | Hamilton Hall, MD, FRCSC Professor, Department of Surgery, University of Toronto; Medical Director, CBI Health Group; Executive Director, Canadian Spine Society. |
This evidence-based learning program has been developed by physicians, in association with the Canadian Spine Society, for primary care physicians, educators, and other health professionals. Learners will utilize this program to assist with the diagnosis, sound management, and appropriate treatment of Back Pain in patients.


This program runs in a sequence, and is accompanied by informative illustrations, and animations. To advance you must complete the quizzes.
Best viewed with accompanying voice-over narration.
You may pause, rewind, or fast-forward at any point.
Slides with links to figures or tables will pause automatically to allow the user time to view the additional material.
After participating in this online CME program, physicians should be able to:


Cite common presentations of mechanical low back pain and its natural history
Outline the appropriate components of a focused back history and complementary physical examination
Identify the four syndromes (patterns) of low back pain
Describe the proper indications for imaging and laboratory tests
List the findings that are of concern and necessitate further investigation
Develop a basic treatment program based on the patterns of pain
Counsel patients on the realistic expectations for managing low back pain including simple initial pain control manoeuvres
| | |
| --- | --- |
| | This interactive online program meets the accreditation criteria of The College of Family Physicians of Canada and has been accredited for up to TWO (2) MAINPRO-M1 credits. The accreditation expires on May 8th, 2015. |
Views and opinions in this program are of the faculty and not necessarily endorsed by, or reflective of, those of the publisher or editors of Health Plexus.

The development of this CME program was supported by an unrestricted educational grant from Medtronic of Canada.
---