heard that my neighbor had been returned to Israel, very ill and was at Tel Hashomer Hospital. I wheeled around and drove to the hospital in Tel Aviv and found that he had gangrene of his broken leg and was in renal failure. As I arrived I heard that he had just been taken to the operating room for an amputation and would be going on to renal dialysis. His prognosis appeared awful and I could hear murmurs from the doctors in the hall about what terrible shape he was in and how awful had been his medical treatment in Egypt. Despite low expectations because of his terrible condition, he survived and eventually after rehabilitation and a refresher course was accepted to medical school-- something he would often talk to me about, during some of our nighttime neighborly chats, calling it a suppressed wish of his.
The last time I saw him was in the parking lot of the Tel Aviv University Medical School where unless you knew him very well you would not know he was walking with a leg prosthesis -- he greeted me warmly and told me how much he was enjoying his medical studies.
A few years ago, while visiting a family member of my wife's brother who had immigrated to Israel, as we sat on her roof-top patio in Tel-Aviv she started talking about how strange the world could be in terms of where experiences and occurrences take you. She mentioned someone she knew "who had been a pilot, was shot down, almost died and then went to medical school…."- as she continued I sat up in my chair and asked her if she was talking about my neighbor and she looked at me and said, "you know him?" to which I said, "I was his neighbor on the base, of course." She then told me he in fact had become a very senior physician in the air force and was just finishing his career and was focusing on archeology as a new career path. And the last piece of information was that he lived across the street. He was not home that afternoon when I ventured to his apartment but I told a young lady who said she was his daughter who I was and I wrote a little note. I was leaving the country that night so it was not until a year later that I connected with him.
After a very warm greeting he filled me in on his life and I marveled at how he managed to turn his near tragedy into a great success and was now redirecting his energies away from medicine altogether into another career. We talked about mutual friends from the base and he showed me the picture of the chief of the air force to be who was another neighbor and a star pilot who took me on a most exhilarating flight in an F4 phantom as his gift to me for having completed the first Israeli fight surgeon's course which they allowed me to take even though my tour of regular duty was coming to an end.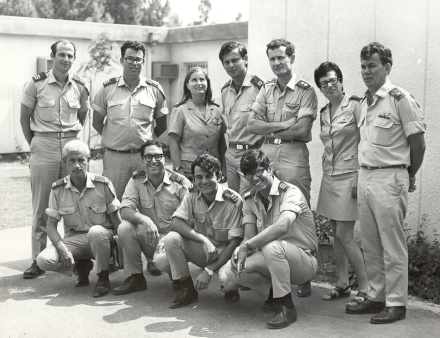 Israeli Air Force days
My recollection of my neighbor who survived his captivity and torture and his co-pilot who did not, kept intruding on my thoughts as I observed in repeated episodes of televised world news, reports of what was happening in Egypt. Would these people, now free from the shackles of a military dictatorship currently at least at "cold peace" with Israel, find a way to resurrect their hostility to the country and join those whose agenda was an existential threat to the country that I love so much. As I presently follow the press reports from Egypt I feel frightened that some of the potential future leaders of the new government are those who have even during the period of the peace treaty, expressed enormous hostility towards Israel.
The confluence of thoughts and personal experiences related to the Egypt of the past made it difficult for me to share in what seemed to be a general optimism in the West about its future. I have become obsessed with the news out of that country hoping for signs that the situation will not regress and become part of a regional threat that appears to gain traction around the world that threatens Israel's ability to defend itself and its wonderful, inclusive, creative way of life. How Egypt goes in the next little while may presage what Israel will be facing in the years to come. I hope that my personal recollections and associations will be able to be filed away as the "then" as will the literary depictions in Grossman's book.
As someone who witnessed the sorrows of the war, if there is a return to the past hostility, with the pre-eminence of Egypt in the Middle East, my deep distrust and associations will be justified. Whatever one can hope for as a future should include Egyptian and Israeli populations that have learned from the past and will focus on peace and a desire to build a Middle East in which both Egypt and Israel can have a "warm peace" to replace the cold one that has existed for so many years.
Dr. Michael Gordon is currently medical program director of Palliative Care at Baycrest, co-director of their ethics program and a professor of Medicine at the University of Toronto. He is a prolific writer with his latest book Moments that Matter: Cases in Ethical Eldercare followed shortly on his memoir: Brooklyn Beginnings-A Geriatrician's Odyssey. For more information log on to www.drmichaelgordon.com