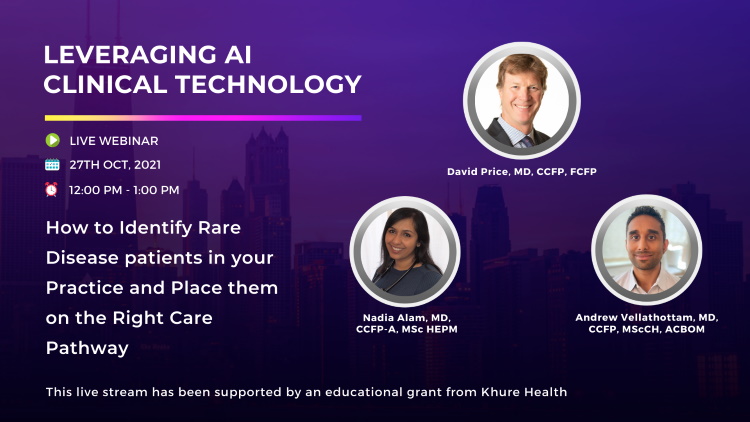 Dr. David Price, MD, CCFP, FCFP,
Professor and Chair, Department of Family Medicine, McMaster University.
Dr. Nadia Alam, MD, CCFP-A, MSc HEPM,
Family Physician, Halton Hills;
Faculty, U of T Institute of Health Policy, Management and Evaluation;
Faculty, U of T Department of Family and Community Medicine;
Past – President, Ontario Medical Association.
Dr. Andrew Vellathottam, MD, CCFP, MScCH, ACBOM,
Occupational Health and Medical Consultant;
Lead Physician East GTA FHO.
After participating in the online live event, physicians should be able to:
Describe the benefits of AI-enabled Clinical Intelligence as a decision support tool in rare disease patient identification in a busy Primary Care Physician practice.
Provide an overview of how the technology can assist with care pathway optimization and improved health outcomes for patients.
This live stream has been supported by an educational grant from Khure Health.
Views and opinions in this program are of the faculty and not necessarily endorsed by, or reflective of, those of the publisher of www.healthplexus.net and Journal of Current Clinical Care.
---
---